Advertisment
Whilst growing up we have a lot to be thankful to our dad's for. They have taught us some of the most valuable life lessons in the world. Whether it's something as big as protecting those around us that we love, or something as small as opening a bottle of beer on the kitchen side – they have always gone out of their way to teach us what they know.
Every single father is different and we all think that our dad's are the best of the best. There is actually nothing like the bond between a father and his child and we all feel blessed every day to have someone like this in our lives. Whilst the term 'we learn from our elders' is fairly significant, there are some things we just couldn't learn. Whilst they are wealth of knowledge, there are certain things that our fathers couldn't teach us like Pythagorus' theorem or the difference between a proton and a neutron. This meant we had to struggle through years of school and boring maths classes.
Advertisment
Since our dad's were younger, the school curriculum has changed dramatically. Most of our fathers won't have half the qualifications that we currently have today. So, do you think this stands you in good stead to declare yourself 'smarter than your dad'?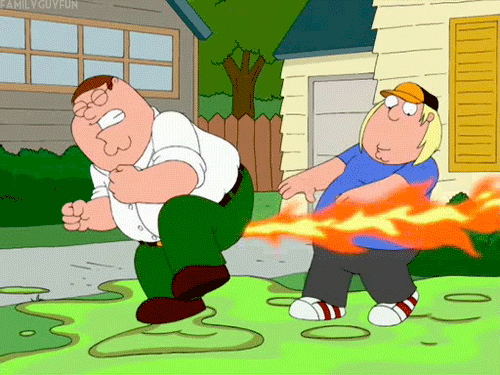 via/giphy
One day that we completely dedicate to loving and thanking our dad's is Father's Day. This is a national celebration and it held on Sunday the 18th of June this year… (you better get your presents sorted before time runs out!). This doesn't mean we don't show appreciation for the rest of the year… it is just the one day dad's don't have to do a single thing! Lucky them… why was there never a children's day?!
I remember I used to ask both my mum and dad why there was never a day dedicated to children and their clever response was that 'children's day is every day!'. They did have a point to be fair because it shut me up!
Do you not think that dad's are always so hard to buy for? You can spend ages trying to find the perfect gift but never actually getting there with what you want. I tend to realise that it's usually beer and socks that do the job. But, we can agree that our dad's would be happy with anything… they're not big complainers!
When we were little we didn't really have any money to go and spend on gifts. So, instead of splashing the cash we decided to make something with our own two hands. We must have made some of the most awful things when we were younger, from pasta necklaces to cards completely coated in glitter. But, no matter how ugly some of these thing were our dad's still loved little things like this. It is really true that hand-made gifts come from the heart.
It is these special, heart-felt gifts that go a long way. I know that my dad has kept all the little things I made him when I was younger, even if they were the most ugly things ever! This is really heart warming that he decided to treasure these little gifts. I don't even want to know some of the awful things I made him… I feel bad that he had to do a fake smile and tell me how much he loved it!
But, these days it's a little different… we don't take the time out to make the special gifts that they hold so closely to their hearts. Even if we did, would they be as endearing as they were if they were made by an eight year old?
A lot of fathers tend to be know-it-all's, but do you think you can pass this test and officially claim the title that you are smarter than your dad? Well, there is truly only one way to find out.
This test asks you a range of different questions. Some are a LOT harder than you think. You will be focusing on certain things you learnt when you were back in school, in your maths classes and english classes. But, as we all know, the curriculum has changed a significant amount since when our fathers were back at school. So, will your knowledge help you or will you fail and no longer hold the title of 'smarter than your dad'?
Good luck and enjoy rubbing it in his face if you manage to win this quiz!

Make sure you share your results on Facebook with your friends (and your dad!).
Advertisment
Next Post