Advertisment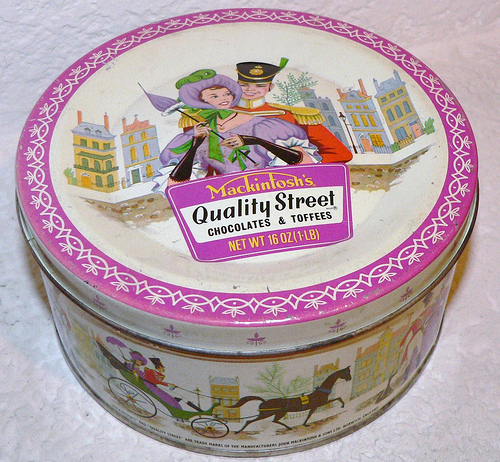 Quality Street dates all the way back to 1890 when John MacKintosh and his wife opened a sweet shop in Halifax where they made a new sweet made out of Toffee and melted Caramel. By 1989, John and his wife's business was so successful, they decided to open the world first Toffee factory which burnt down in 1909. John bought an old carpet factory and converted into a new facility.
When John MacKintosh died, his son Harold took over the business and that's when it became Quality Street.
Advertisment
In the 1930s, only wealthy families could afford boxed chocolates because of the ingredients used in them were from exotic countries. Harold set out to produce boxed chocolates that working class families could afford to buy. He also made the world's first twist-wrapping machine that wrapped each chocolate in a distinctive brightly coloured wrapper. MacKintosh also put the chocolates in a tin, by doing this, he kept the chocolate aroma in the tin, so it burst out when someone opened it. The different colours, shapes, textures and sizes of the chocolates made it a very vibrant, fun experience for the families opening the tin.
In the mid to late 30s, Britain was feeling the effects of the economic crash and MacKintosh realised that when times are hard, people crave nostalgia, they think of happier times. So to cheer the country up, Quality Street tins were decorated with two people on the front wearing regency era dress named Miss Streetly and Major Quality. These two characters appeared on every Quality Street tin until 2000. The original models were Tony and Iris Coles, the children of Sidney Coles, the man who designed the man who designed the advertising campaign for Quality Street that first appeared on the front of The Daily Mail in 1936.
In 1998, Nestlé bought Quality Street from Rowntree's MacKintosh and now you can buy larger versions of the sweets individually, like the green triangle one or the purple one.
The sweets are not only popular in the UK. In Norway, the call them "Shetlandsgodt" or "Shetland Snoops" (sweets) because fisherman often brought them home after visiting the Shetlands. In Iceland, they're called "MacKintosh". And in 2002, Saddam Hussein offered them to George Galloway when he was on a visit to Iraq. Saddam Hussein wanted to endorse the sweets, Nestlé originally approves but decided to backtrack the connection.
The sweets have changed a lot over the years and have evolved, as of December 2012, Quality Street boxes had 12 different flavours; The Purple One, Green Traingle, Chocolate Toffee Finger, Strawberry Delight with mint, Caramel Swirl, Mint Choc Block, Orange Crunch, Orange Creme, Fudge, Coconut Eclair, Toffee Penny and Honeycomb Crunch.
As of 2016, Honeycomb Crunch replaced Toffee Deluxe because there was too many chocolates covered in toffee already. It can still be found in the Toffees and Fudges box because so many people complained via Twitter.
They've not only got those flavours, Lemon Zest in available in the fruit cremes boxes, My Green and Purple bars are made up of four original green/purple (depending which bar it is) noisette pate triangles that are held together by milk chocolate.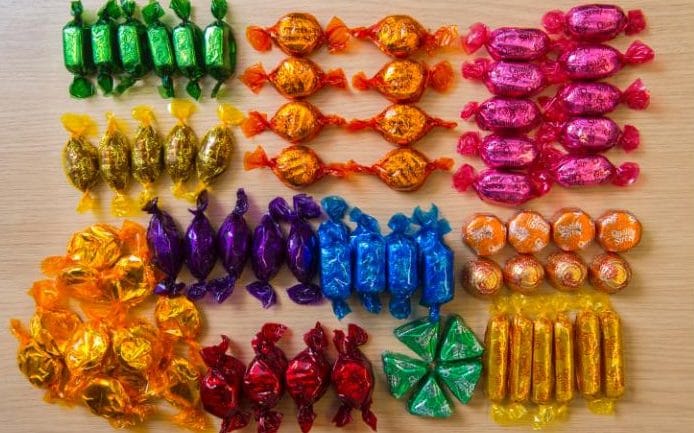 There have been a lot of different flavours in the past that have been discontinued or replaced by the current flavours we know well. This includes; 
Purple One you know, the original 'Purple One' with a brazil nut, Chocolate Strawberry Cream replaced with Strawberry Delight, which is just heavenly, Chocolate Toffee Cup, now replaced with Caramel Swirl, Hazelnut Cracknell that one with the red wrapper, Hazelnut Eclair, Chocolate Nut Toffee Cream, Malt Toffee, replaced with toffee deluxe as a "new" flavour – BULLSH*T, Milk Chocolate Round which has now been replaced with Milk Choc Block in green wrapper, Peanut Cracknell in a nice blue wrapper, Coffee Cream in a brown wrapper, same size and shape as the strawberry cream, Almond Octagon a purple wrapper, replaced with Vanilla Octagon, but the latter is now discontinued as well, Gooseberry Cream a green wrapper light green fondant with a touch of Gooseberry Preserve covered in milk chocolate, Fig Fancy in a light brown wrapper, Apricot Delight a blue wrapper, square chunk, apricot flavored jelly covered in milk chocolate, Toffee Square, in metallic pink wrapper, a small square of very hard toffee, Chocolate Truffle, a brown square chunk, a soft truffle filling covered in milk chocolate, Montelimar Nougat, Fruits of the Forest Creme in a pale purple wrapper and of course Smarties!
We all love to indulge in a bit of chocolate, right?
This is the test for you….
Think you can identify all the chocolates without the wrapper?
Well, let's find out!
Advertisment
Next Post