Advertisment
Inbetweeners actors Joe Thomas and James Buckley will reunite for new BBC Sitcom 'White Gold'. It will involve just as many inappropriate one-liners, foul language and dicks jokes as the show that made them famous. Although, I can't see how it will be as funny as The Inbetweeners, but we will just have to see won't we!
James and Joe (Simon and Jay for the Inbetweeners) will play two double glazing window salesmen alongside Gossip Girl's very own Ed Westwick (yes, you read that correctly girls!) He will play Vincent, the boss of the two Inbetweeners stars.
Advertisment
A bit of family #Swan 👉👉#whitegold 👌👌 @EdWestwick in @WhiteGoldonTV
Waiting with great desire in your new role #vincentswan 👍👍#edwestwick pic.twitter.com/qbPrcIjvQg

— ❤❤Sweet Edwestwick🌠 (@CooTeeTiiTaaa) May 16, 2017
The show has been written by the same man who wrote the Inbetweeners Damon Beesley, so we should definitely be prepared for the bad language and outrageous one-liners.
Damon said: "The show is set in the 1980s and the lines are of that era.

"We are not going to use them gratuitously.

"The characters who make these comments are picked up about their behaviour."
If you were a fan of the Inbetweeners, we're sure you'll love this show…and if you don't, well, you'll have to just hope and wait for an Inbetweeners reunion show. There have been rumours circulating that it could be coming back for one final series, but that could just be lies.
Want an #Inbetweeners reunion? New BBC comedy White Gold is the closest you're likely to gethttps://t.co/lLWa4Pz7BU pic.twitter.com/YGJfbXErUb

— Radio Times (@RadioTimes) September 29, 2016
In a recent interview, Joe Thomas, who played Simon in the show said that all four of them will be reunited soon…so we took that as an Inbetweeners reunion, you take it however you want!
"I think that we are ­definitely too old now to do anything that is set in a sixth form," said the actor, who'll you'll recognise from Fresh Meat unless you've been living under a rock in a cave for the past decade.

"But we could do the ­originals ten years down the line, married with kids. I mean, we can do that now. I would jump at any chance to work with those guys again – in any context, really," he added.

"It's not in my hands but I love those guys and I would love to work with them again. We have spoken about it but it's not really in our hands. We don't write the show so it's not down to us."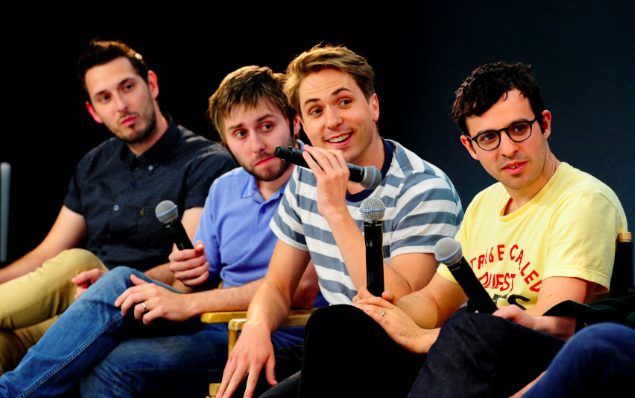 Simon, who played nerdy Will McKenzie, said at the time: "There's no third film. This is our last interview ever. Ever, ever, ever."
'Thumbs up friends'👍 pic.twitter.com/6zG4yD09MO

— Inbetweeners Moments (@inbetweeners) July 26, 2014
"It's going to be set in Essex in the Eighties."
The Inbetweeners was one of the big comedy success stories of the past decade, spawning three series and two movies (even if the second movie was a load of sh*te) the four of them can still make us laugh every time we see repeats of the show on tele.
There were countless Inbetweeners quotes we still laugh at 7 years after the show ended, let's just hope White Gold is as funny!
White Gold will be aired on BBC 2 on May 24th, 2017. Make sure you don't miss it! 
Don't forget to share this with your friends if you enjoyed it! 🙂
Advertisment
Next Post