Advertisment
We can all agree that soaps are the biggest things on telly. We love the fact that we get to be so involved with the dramatic lives of a full town and watch the dramas unfold on a weekly basis. But, just like any soap the characters are ever changing. So, what have your FAVOURITE soap stars been up to since they left the shows? From Hollyoaks to Coronation Street and Emmerdale to Eastenders – this is what the most popular soap stars have been up to since they left!
Enjoy!
Advertisment
1. Jamie Mitchell
The role of Jamie Mitchell was played by actor Jack Ryder. He first appeared on EastEnders back in 1998 after the death of his father, Charlie. The main storyline we can all remember was his on and off relationship with Sonia. Just as we'd expect with any soap, their relationship faced its difficulties. Whether it was trying to get through the birth of Chloe or Jamie sleeping with someone else – they still managed to get through their troubles as a team.
via/metro
He decided that it was time for him to leave the show when 2002 came around. He was nominated for 'Best Exit' back in 2003 at The British Soap Awards. His dramatic final episode aired on Christmas Day of 2002 after he engaged to Sonia and later got hit by a car. The producers decided to kill him off the show instead of leaving it open for his potential return later in the soap.
via/wikipedia
Following his departure, actor Jack Ryder later established himself as a film and theatre director.  The year after he left the show he starred in 'Celebrity Stars In Their Eyes' as Justin Timberlake – and won! He appeared in a range of different television programmes and theatre productions for a few years following his departure from the show.
via/lifestyle
However, in 2010 he actually wrote and directed his very first short film. He adapted 'Act of Memory' which was originally written by Mary grace Dembeck. This was later screened at the Cannes Film Festival in 2011.
After directing a range of different theatre productions, Gary Barlow and the rest of Take That asked him to help co-direct the new musical 'The Band' which actually opens in the September of this year!
via/mirror
He is currently divorced from ex-flame Kym Marsh and lives in both London and France. He is also an avid Newcastle United F.C fan!
2. Chris Tate
The role of Chris Tate was played by actor Peter Amory. He first appeared on Emmerdale back in 1989 on November the 14th. He first arrived in the village with the rest of the Tate family. We all remember him as being an honest man, however in 1993 he was left paralysed after a plane crash.
via/emmerdale
He was only affected from the waist down, but this started to change his once charming character. He quickly became a bitter man following his accident and his luck quickly became worse. He learned he had a brain tumour that was inoperable and so decided that he wanted to commit suicide. However, he tried to frame Charity for his murder before he took the poison.
via/wikipedia
Actor Peter Amory first rose to fame with this role. However, he never had any significant television roles following his departure from Emmerdale.
via/derby
He was born in Norwich in 1964 and ended up marrying Claire King who also starred on the series. She played the role of Kim Tate who was his step mother. However, the couple separated after ten years of being together. He also has a son, Thomas, from another relationship!
3. Craig Harris
The role of Craig Harris was played by actor Richard Fleeshman. He made his first appearance on Coronation Street back in 2002. We remember he quickly became a heart-throb on the show – even when him and Rosie became goths in 2005! The relationship between Rosie Webster and Craig Harris was a storyline we all loved to follow throughout this soap.
via/coronation
Amazingly, he was the only member of his on-screen family that managed to escape being axed from the show in 2005. Sadly, he decided to leave the programme when he was 16 and his final episode aired on the 16th of October in 2006.
via/thefull
Following on from his departure in this show, he continued his acting career. Not only this, but he also decided that he wanted to explore the option of a potential music career.
via/alchetron
This career took off straight away and by 2008 he was supporting Elton John on his headline tour. He also released a few singles after being singed in 2007 to Universal Records.
via/celebrity
In 2010 he took over the role of Warner in the stage production of Legally Blonde. He later starred in the West End production of Ghost – where he starred as the main male role Sam Wheat. He is continuing to act in a range of theatre productions where he can combine his love for singing and acting in one!
4. Michaela McQueen
The role of Michaela Claudette Mariangela Louise McQueen was played by the actress Hollie-Jay Bowes. She starred on the hit soap Hollyoaks and was actually the first of the infamous McQueen family to be shown on screen.
via/celebs
She first appeared on the show back in 2006. Her storylines have been nothing short of dramatic – from her family thinking she was a total drug addict to drunken one night stands we loved whatever the writers came up with for her character.

via/vital
Her departure from the show came in 2010 when she announced that she had to quit the show. However, it later came out that it was the bosses that had axed her character and had to write her out as quickly as possible. She did later return for the fourth series of Hollyoaks Later but soon departed the show for good.
via/zimbio
Following departing the series for good, she had a role in 'After Hours' which was screened on Sky 1 where she played Jen. However, there haven't been any acting roles she has had since then!
5. Zoe Slater
The role of Zoe Slater was played by actress Michelle Ryan. She made her first appearance on EastEnders back in the September of 2000. She first arrived in Walford with her father, grandmother and sisters. The family quickly became big names on the show and their storylines were nothing short of dramatic.
via/eastenders
Zoe's journey as a character was extremely dramatic as we expected. From faking a pregnancy to a car crash, we were always obsessed with what the producers had in store for her character.
via/wikipedia
Sadly, she decided that it was her time to leave the role of Zoe after five years of portraying this character. She starred in the final episode on the 24th June 2005 where the storyline told us how she left for Ibiza!
via/dailymail
Following on from her time on EastEnders she has stared in a wide range of different television programmes. We have seen her in Merlin starring as Nimueh for four episodes of the show and also in Dr Who.
via/pinterest
At the end of 2012 she also starred in Cabaret. This was a production that toured round the UK alongside Will Young!
6. Trica Dingle
The role of Tricia Dingle was played by actress Sheree Murphy. She made her first appearance on Emmerdale back in the September of 1998. She made an unexpected arrival on the show when she turned up at The Woolpack. Tricia was the daughter of Steph Forsythe and the granddaughter of Alan Turner – however he didn't recognise they were related initially.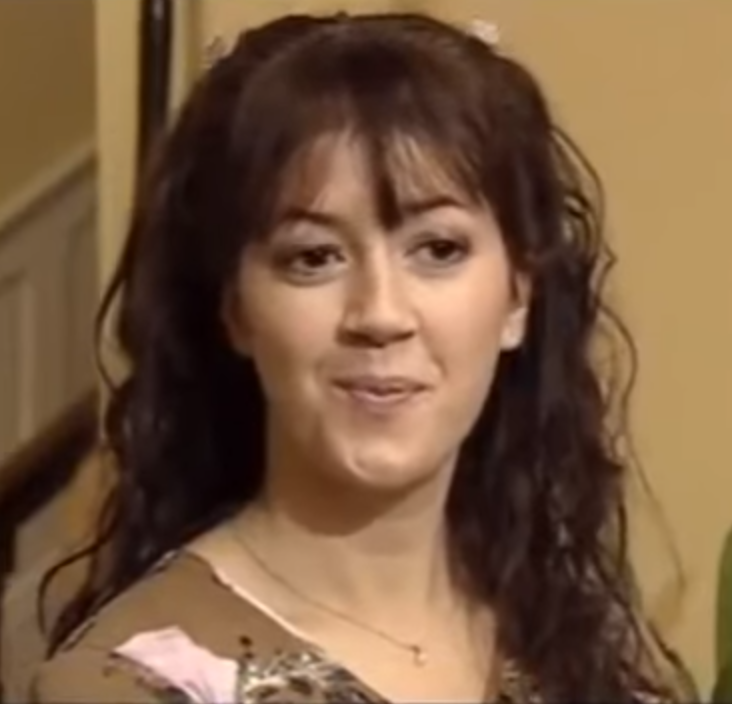 via/emmerdale
Tricia was quickly a big hit in Emmerdale – especially with the men. She was a little tease and could wrap anyone around her finger! However, he departure from the show was quite a shock and extremely dramatic. She was caught up in a storm and was found lying under rubble. After being air lifted to hospital and declared brain dead, her machine had to be switched off. Although she is no longer on the soap, her name is still mentioned in the programme – which shows how the current cast still struggle with her loss.
via/emmerdale
Since leaving the show back in the January of 2004, actress Sheree Murphy she has continued her acting career. In 2007 she co-presented Soapstar Superstar: Bonus Track. Not only this, but she also joined the cast of Neighbours in 2014 as Dakota Davies.
via/dailymail
via/hawt
She is currently married to Harry Kewell who is an Australian football player. The two met whilst they were in a night club back in the year 2000 and married two years later in Vegas! Together they have four beautiful children with the eldest being 16!
Advertisment
Next Post