Advertisment
The couple who met on the popular Channel 4 dating show have welcomed the show's first ever baby.
Ibiba Mudada and Aaron Stewart met on June 10th last year and found out they were expecting their first child together just 7 weeks later. They have no formed the very first First Dates family and by the time their date was aired on TV in October, the couple were a few months into their pregnancy.
Advertisment
The couple welcomed daughter Aziza, who weighed 9lbs and 4oz, when she was born in April.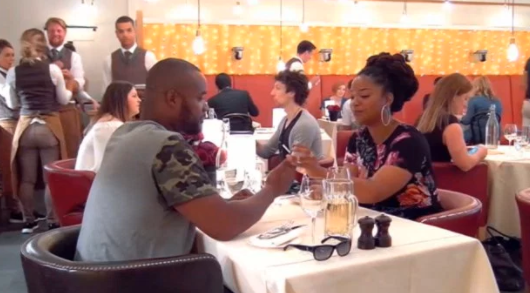 Ibiba and Aaron admit they never planned on starting a family so soon, but say they've never been happier and plan on tying the knot.
Ibiba told The Mail on Sunday; 'It's true that our meeting and the speed with which we've started a family is certainly far from traditional, and it is hardly ideal to do everything so fast. But that is the nature of modern Britain. Things move at a much faster pace these days. Convention and tradition are both very important to us, so buying a home and getting married will be our next goals.'
The pair both have children already from different relationships, Ibiba has a 10-year-old daughter called Chenai and Aaron has daughter Tia, nine and Latham, six.
Talking about Aaron on the show, Ibiba said; 'I was trying to keep it cool but I fancied him so much. I loved his long eyelashes and really genuine smile. Things got serious after the third date. Everything was quite intense. Then we went bowling and he met one of my best friends, who told me, "He's a good 'un!".'
Advertisment
Next Post