Advertisment
Amsterdam Noord? The up and coming area, that never seems to get a mention!
Amsterdam centre is known world wide for all that it has to offer, but what doesnt seem to get the attention it deserves is Amsterdam Noord. Jumping on a short ferry from the back of Centraal Station gets you there in seconds, and at no cost. There isnt a time during the 24 hours of the day that the ferry isnt open, ensuring a constant stream of people using the service.
Advertisment
With an industrial past, including huge shipyards which were in use until the 1980s, you can start to build up how it has a completely different feel to the more popular sites in Amsterdam. Home to one of the best hostels we have ever stayed in, it is hard to squeeze everything in that there is on offer, but below are a few of our favourite options you can do when venturing/staying in the Noord.
1. Noorderlicht Café 
The Noord area is a hot-bed of musicians and artists. The Noorderlicht Café at NDSM Werf (one of the old shipyards) is a cultural hub where local creatives get together for music nights and community events. They also have a small reasonably priced menu, offering ethically sourced and seasonal food and drink. The café is housed inside an old greenhouse and inside it has a ramshackle but welcoming feel.
Step away from the limelight and enter into some more culturally aesthetic surroundings and get a feel for what all the locals are doing away from the tourists.
2. The EYE Film Museum
You can see the white, angular outline of this spaceship-like museum as you ride the ferry across the River IJ from the back of Centraal Station. It's a mecca for local and international film lovers, screening both classic films and new independent releases. It's also home to free permanent exhibitions and hosts special events and discussions.

3. IJ Hallen
Hallen is Europe's biggest flea market! Two big warehouses are jam packed with vintage clothes, antiques and everything in between. You've got to be determined to rifle through some junk, but it's worth it for the budget friendly gems you can unearth! The market is held a few times a month so check this out and ask ClinkNoord reception when you arrive – they're brilliant at helping with all the little hints and tips.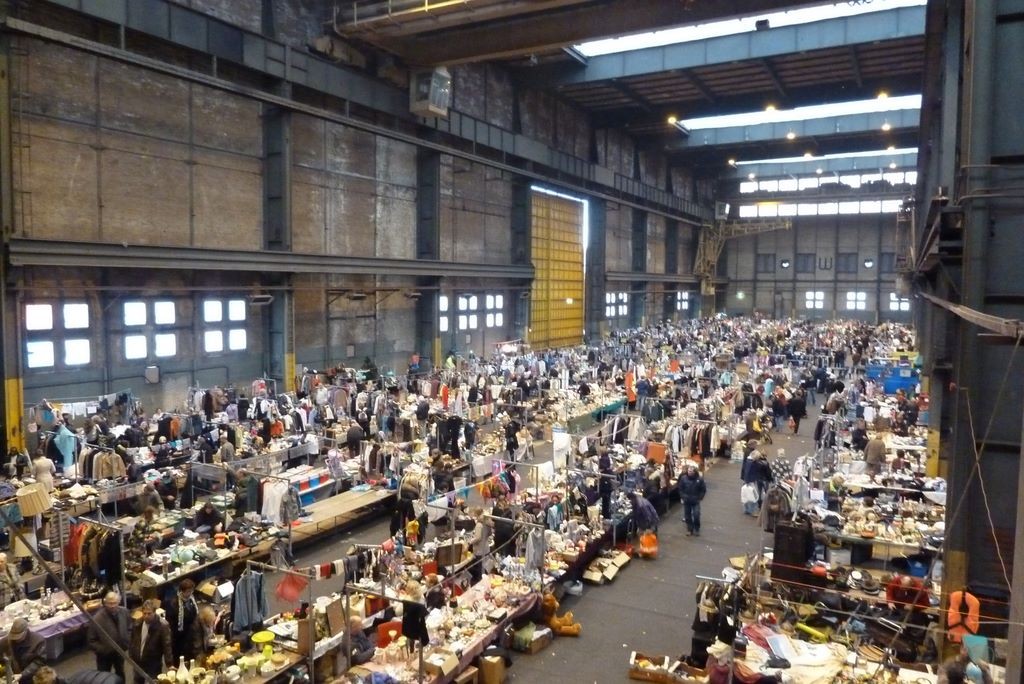 4. Hotel de Ghoudfazant
Unlike the name suggests, this isn't a hotel! It's actually a huge restaurant in an old warehouse (warehouses seem to be a bit of a thing round these parts!). The Dutch-French inspired menu is all in Dutch (always great sign, in my book) but the hip yet super friendly staff are happy to run you through your choices. Another great alternative to the sweeter side of Amsterdam in the centre. Change from the waffles, cakes and croissants by spending a few hours here.

5. Tolhuistuin
This is the former workers' canteen of the SHELL Head Offices. It's now home to a cool, multi-functional arts space that hosts exhibitions, performances, events and music nights in conjunction with Amsterdam's famous venue, Paradiso.
6. Plek 
This is yet another cool multi-functional venue in Amsterdam Noord. The building has been constructed using old shipping containers and opens up onto a manmade beach with stunning views across the River IJ. It serves up a tasty seasonal menu and also puts on parties, film screenings, exhibitions and other events. 
Spend the day in the centre, get back to ClinkNoord and relax/have a beer/meet lots of people, and all head down to the parties that are put on here. Its a plan for a perfect day! Open until 3am Fridays and Saturdays so there is always a chance to see what is going on.
7. Café de Ceuval 
Café de Ceuval is made out of recycled materials and is also on its way to becoming totally self-sufficient. They're even planning their own rooftop farm! The menu is affordable and tasty and they do great coffee too. This was something we loved. So different to anything we have ever seen or experienced – this is a must!  
8. Rolling Rock Kitchen
Set up by Ron Tetteroo, the famous Dutch fashion photographer, this restaurant is super cool! Great food (100% have to try the pulled pork burger), amazing live music nights, and special culinary events, this venue combines everything!
So thats what the Noord has to offer, and what we think separates it from the hustle and bustle of the more common and well known attractions to Amsterdam.
But the most important part to every trip is where you stay, and there really is no better place to stay than ClinkNoord. Luxury, budget, and everything in the middle is on offer here. Share your experience with fellow travellers in the dorms, or keep yourself to yourself in one of the en-suite bedrooms where you can relax and look out onto the forecourt in the centre of the hostel.  
If you fancy a night in, fear not, ClinkNoord makes sure you have everything at your fingertips. A bar, a great food menu, table tennis, and a pool table are just some of the small features they have included to try and cover all needs. Dont just take our word for how good the services are from Clink, check them all out for yourself!
There isnt anything worth knowing that the workers at Clink dont know, so be sure to take full advantage of them and see what they recommend during your stay in the area. One amazing thing you get from staying in dorms is the thoughts of all the people around you. Just because you think you know what you like, doesnt mean there isnt loads more for you to see and explore. Staying at Clink gives you this chance to talk to people you would never usually come in contact with!
Maybe there should be more said about the usual things to do in Amsterdam, but we dont think so. Staying at ClinkNoord, and having the chance to see what only a select few do compared to the masses that travel to Amsterdam, is an opportunity not to be missed!
Grab a room at ridiculously low prices (some go from $15) and get your next journey planned! There is so much more to be said about ClinkNoord, but what better way to read it than from the people at Clink – check out their 'about us' to see how Clink hostels started back in the day!
Get your creative side out, and see what Clink have to help with that here.
Until next time…
Advertisment
Next Post