Advertisment
Oh to be young again with not a care in the world and our only wish was to be a grown up!  I used to borrow mom's rouge and lipstick in an attempt to look older.  I was so bad at applying it, I looked like Coco the Clown.  I would use her heated rollers to make my completely straight hair look big and bouncy and, like many of you out there, I would walk around the house in mom's high heels, clattering around on 4 inch platforms and occasionally going over on my ankle – happy days!
We had a shelf in the sideboard which was stacked with family board games and these still bring back happy memories.  We'd play Ludo and Monopoly for hours on end, especially if the weather was bad outside and it was a time when we would sit down as a family, having a laugh ad being silly.  Here's some childhood images to, hopefully put a smile on your face.
1  Lite Brite
Who would have thought a light box with small, colored pegs would turn out to be such a hit!  The pegs fitted into a panel and illuminated to create a picture.  Hasbro also offered refills and new colors, apart from the usual green, yellow, pink, purple, orange, white, blue and red.  You could also get refill templates with characters such as My Little Pony (my personal favorite), as well as Scooby-Doo and Mickey Mouse.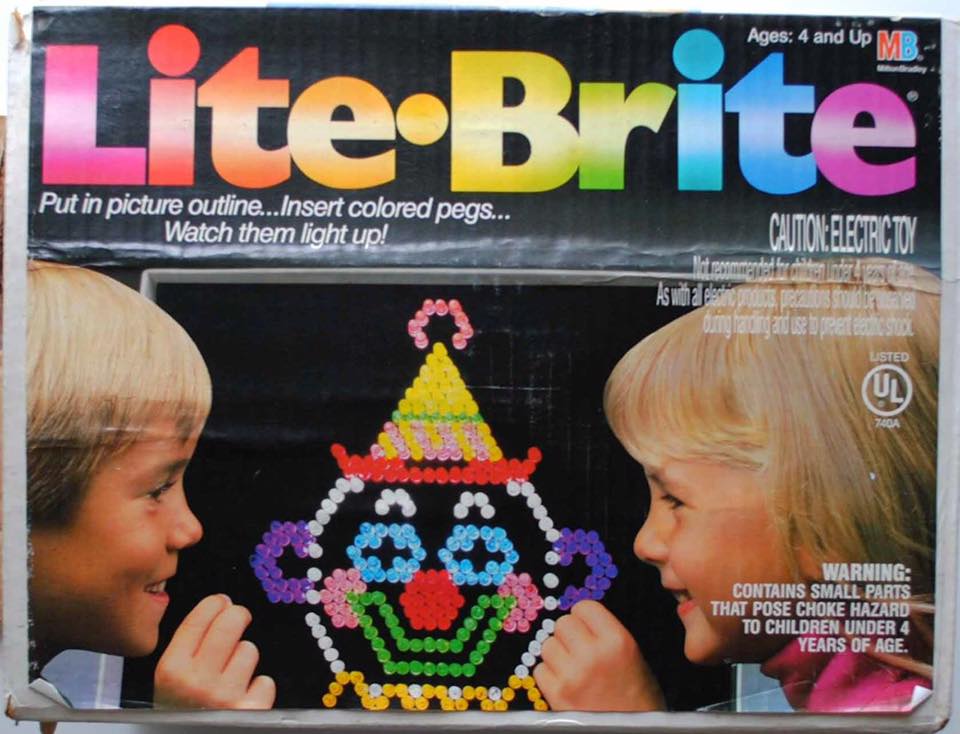 Advertisment
2  Pom Pom Socks
Were tube socks not your thing – well, it didn't matter as pom pom socks were sure to fit your fashion requirements.  The sock only just covered the feet and ended below the ankle, displaying a tiny pom pom in a color of your choice.  If I remember correctly, the socks were sold in packs of three, with different pom poms on each pair.  This ensured the pom pom would match every outfit and there was no excuse for a wardrobe malfunction!  The only time I can recall when  this footwear proved unsuitable was when I wore my roller skates, when the pom pom would be lost in sight.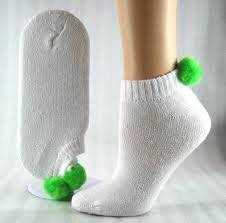 3  Franken Benny Cereal
I was never a fan of breakfast, when I was young as I preferred to stay in bed until the last possible moment and then take around 4 minutes to put on my school uniform, grab my stuff and run out of the door, toast in hand.  My daily habits changed drastically when these character cereals made a welcome appearance.  Fruity, chocolatey and very sugary, a bowl full of these, especially Franken Berry, with the little pieces of marshmallow, made mornings almost bearable.  I was eve known to have another bowl of cereal on my return from school, to fill the gap before dinner.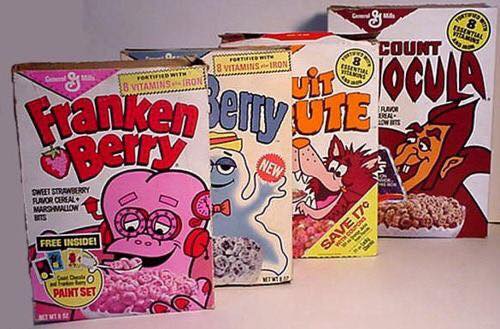 Advertisment
Next Page